Texas City, TX Seafood
Boyds One Stop
227 Dike Rd., Texas City, TX 77590

Boyd's One Stop in Texas City, TX provides a variety of fresh fish and seafood for wholesale and retail selling. With 33 years of experience, we offer low prices on table shrimp and seafood fresh from the boats.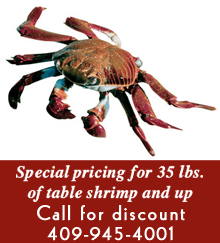 Learn More About Boyd's One Stop:
Table shrimp (from gumbo to jumbo)
Crawfish (in season)
Oysters (in season)
Live crabs
Tilapia, catfish, and red snapper fillets
Flounder
Stone crab claw
Variety of fresh fish
Bulk ice
Seasonings
Listen to 610 (Kilt AM) between 5:00 am to 6:00 am for our daily specials.
Contact Boyd's One Stop today at 409-945-4001 for all of your Texas City, TX seafood needs. Visit our website at www.boydsonestop.com to see our quality fishing bait available.
We are the home of "The Oxygen Response System." The system that keeps your live bait living!